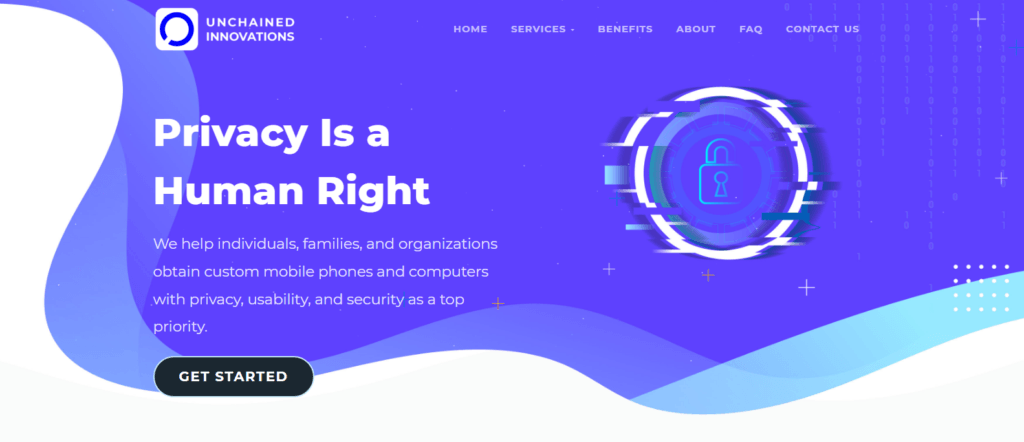 This article is going to be about Unchained Innovations. What is Unchained Innovations? Why are they considered to be one of the best privacy offering companies out there by freedom fighters? This is a very interesting company so let´s look into this subject in this short post review!
---
Company: Unchained Innovations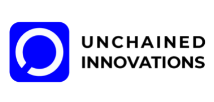 Website: Unchainedinnovations.io ( for FREE shipping use this link )
Who is it for: Privacy thirsting phone and laptop users
Recommended: Yes!
---
Intro
As the cliché goes, technology is a good slave, but a poor master. Cars move us quickly and easily, but also pollute and divide communities. Aeroplanes shrink distances, but enable chemical dumping.
Smartphones are the example par excellence of the double-edged gadget. Most people love theirs, and exhibit this love with persistent attention, to the point of obsession. There is a reason why James Evan Pilato calls smartphones 'fondle slabs'.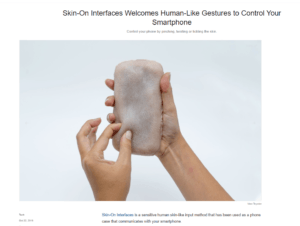 My ambition is to dump mine in the bin – and one of these days I will – but I know I'm an unusual case. Many people would rather be confined to a rat-infested cell for their rest of their lives, living on bread and water, rather than give up their phones.
Tools to track and trace
Yet anyone that doesn't know by now that smartphones are tools of control and surveillance must have been under a rock for the last x years. Given this, why have so very few people taken the step of giving theirs up? This is worthy of a post of its own – but for now we will take for granted the extreme reluctance people have to relinquish their slab, whether they are in the frequent fondler class, or merely occasional.

Given this extreme attachment, the smartphone problem must be solved in another way – through changing the nature of the phones themselves. There has long been a small but determined group of social media stars willing to provide instructions on laboriously removing every teeny trace of Google from your phone, catering to folk willing to take this DIY approach. If this sounds like you, subscribe to Rob Braxman and Naomi Brockwell (just two examples).

Most of us, though, are either too timid or too lazy or too busy to do it ourselves – and increasingly we are willing to pay out for others to do it for us. Cue Unchained Innovations, our focus for this post.
Unchained Innovations (henceforth UI) are a technology company, but in the same sense that punk was a music genre – as enemies of the status quo. UI aim to disrupt the cosy relationship that has evolved between Big Tech and phone manufacturers, whereby the hardware facilitates the operating systems and apps that worm their way into our lives, spying and exploiting as they go.
To do this, UI take standard phones and laptops, and reconfigure them with new operating systems and software with a strong focus on privacy. It is a simple value-added business model, with instant appeal to anyone who cares about the over-weening power of Apple, Google et al (as increasing numbers of us do).
Meet the new tech, not the same as the old tech
UI use Pixel phones. As a critical success story that has never achieved more than a tiny market share (around 2%) Pixel phones are good candidates for UI's attentions, as they are very reasonably priced, and suitably robust. There is some irony in an anti-Google company using Google phones, but as Google have provided an open-source ecosystem in the form of the Android Open Source Project, this ensures an excellent level of security for the hardware and firmware.
As a contrast, some of the direct competitors of the UI phones, such as Librem 5, ClearPhone and Pinephone, do not use open-source hardware or software. This means that purchasers cannot be sure that governments have not demanded backdoor access to the phones, as with the Pegasus spyware that was developed by the Israeli company, NSO Group. Pegasus was designed to run secretly on Android and iOS phones, and was used to target some 50,000 people around the world, including journalists, activists and government officials. That is just the headline figure; who knows what the real number was (and whether Pegasus is still running, under a different name and controller).
Alternatives
UI pride their phones on being uniquely resistant to the predations of Pegasus and their ilk, due to their use of the GrapheneOS. GrapheneOS is commonly reckoned to be far more resistant to outside attacks then other operating systems. To reassure users, it uses the Auditor app, which validates that the GrapheneOS, has not been tampered with, and that the bootloader is locked.
Graphene even comes highly recommended by some famously security-conscious folk:

As for the software loaded on to the phones, UI have two main goals – removing the proprietary software that gluts ordinary phones, spies on users, slows performance and gobbles battery life, whilst installing privacy focused apps that allow maximum control and utility. There are always alternatives to privacy-destroying apps, and UI makes good use of these – from Jitsi (an alternative Zoom) to Magic Earth (a map system that does not store your data).

UI also produce customised laptops, using the Lenovo ThinkPad series, due to their robustness and good value. The same focus on privacy and control means that the laptops have been reconfigured with Linux, and a battery of non-Big Tech apps.
Now for the bad-ish news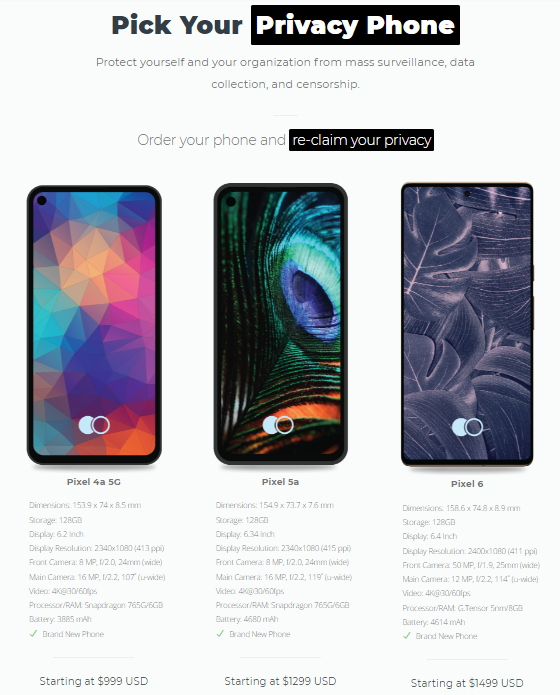 These phones and laptops are many positive things, but cheap they are not. UI acknowledge that they are deliberately targeting the quality end of the market, rather than catering for meagre budgets.  The phones start at $999, which is $400 more than the price of the undoctored Pixel phone, and rise to $2000 including optional extras.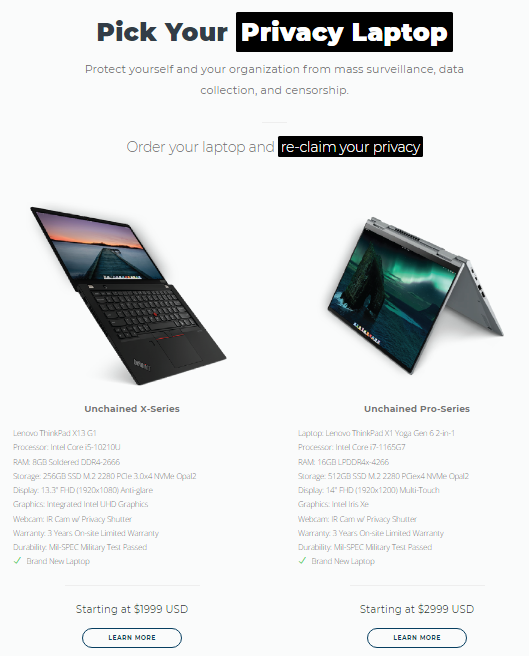 Laptops start at $1999, with an optional upgrade of $499 providing 'Privacy Plus' options (extra support and protection), and go up to an eye-watering $3,498. Many would consider that these are very reasonable prices, however, given the time and love lavished on the customisation, as detailed in this graphic: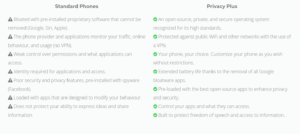 Ultimately the only proper judge of a company are the customers. Strangely, I could not find any reviews of the company using Chrome or any other search engine, but there are some provided on the website.

The review on the right seems particularly pertinent. We have certainly become used to a very shabby level of performance from our phones – built-in obsolescence, poor battery life, intrusive assistants, dangerous levels of EMF emissions – which serves everyone but the customer.
UI rightly stress that their real value proposition is the upholding of the right to privacy, which is the basis of all other human rights, and the right to speak freely, which is closely allied to it. At a time when these two crucial rights are under concerted attack, companies like UI are trailblazers in the technology space. It is rare for me to wholeheartedly endorse a company, but I have no hesitation in this case. Go forth and acquire!
Anna,
writer and team member of No Hype Invest!
---
How you get FREE shipping!
As NoHypeInvest reader you can get a FREE shipping on any of the phones, or laptops from UI by simply entering the code NOHYPE in the application form through the website of Unchained Innovations.
I first got to know about this company from our friend Max Igan as he personally knows the people behind the company and reasured that they are legit, and as I trust Max, I choose to promote this company! Am also going to order myself at least a laptop from them!
See ALL the phones and laptops they offer for you:
(P.S. Use code NOHYPE in the application form for FREE shipping on your orders)
---
I hope you found this short review on Unchained Innovations to be helpful and that you now have a better overview on what it is about and if it is something for you. Please share your own experince and questions in the comment section below as I would be more than happy to answer them!
All the best to you!
John, founder of NoHypeInvest!