This is going to be a review on the Lifewave patches, the x39, the x49, the Aeon, etc. We will look into if this product and technology really works? We are going to go through a lot of Lifewave Stem Cell Patches Reviews from their clients as well. Is Lifewave stem cell patches a scam or are they legit? Is this something that you might want to get started with and try out yourself? These are some of the questions I hope this short review is going to be able to help you answer.
We all got our health problems, right? Bigger ones or smaller ones, issues that we can talk about and maybe also issues that we keep quiet about. If you have been having some kind of issue for a long time and think it´s going to stick with you for the rest of your life…
Well, then you might have already considered to inject stem cells, because stem cells are well-known for being able to heal and fix almost anything.
It´s probably one of the best, if not the best procedure you can put your body (and mind) through.
The problem is that stem cells are pretty expensive, so it´s not really realistic for any other people than the rich and wealthy ones.
Another problem might be that you don´t like or trust putting needles into your body, and/or injecting un-known material into yourself, right?
Both these problems are solved with the Lifewave stem cell patches at least, that´s for sure!
They are neither expensive nor do they put ANYTHING into your body.
Well exept the infrared light that your own body emits of course.
Does this sound confusing?
Don´t worry, going to explain what this is and how it works in this (personal) review! Let´s get into it!
What is Lifewave stem cell patches?
The Lifewave stem cell patches are patches that supports healthy stem cell activity in your body. They promote healing, restoration and rejuvenation. This is done completely naturally by elevating a copper peptide that is produced by your body. This boosts vitality and overall health and wellness. In other words you could say that you turn back the time with stem cells, you get younger. The Lifewave stem cells do NOT put any drugs or anything at all into your body.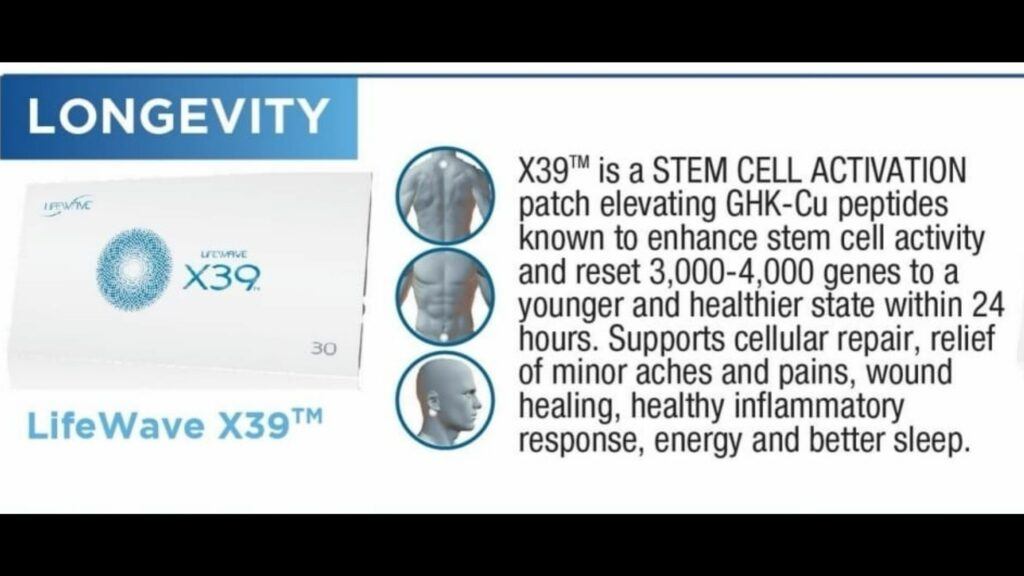 X39 supports healthy stem cell activity, which promotes healing, restoration, and rejuvenation. By naturally elevating a copper peptide produced by the body, X39 boosts vitality and overall health and wellness. Turn back time with X39!
How does the Lifewave patches work?
The way this works is that the patches are reflecting the infrared light that your own body emits back into your body. This is called phototheraphy and is what makes your body produce more of the copper peptide.
You wear the patch for only 12 hours and then remove and discard (or place on a pet for 12 hrs). Apply a new patch daily. Drink lots of water. Give yourself 90 days of daily use to fully activate your stem cells. Deeper healing happens after 90-120 days.
Be patient enjoy the patching journey this is amazing regenerative technology activating your stem cells, Helping your body produce new plurri potent stem cells and resetting 4000 genes daily to younger healthier expressions.
The different patches available:
Pain & Repair
(1) X39 – Stem Cell Activation
(1) X49 – Improves Cardiovascular Function and Focus
(1) Aeon – Inflammation
(1) Icewave – Pain Relief
Detox & Cognition
(1) X39 – Stem Cell Activation
(1) X49 – Improves Cardiovascular Function and Focus
(1) Aeon – Inflammation
(1) Glutathione – Master Antioxidant
Skincare
(1) X39 – Stem Cell Activation
(1) Alavida – Reduce Fine Lines & Wrinkles
(1) Glutatione – Master Antioxidant
Sleep
(1) X39 – Stem Cell Activation
(1) X49 – Improves Cardiovascular Function and Focus
(1) Aeon – Inflammation
(1) Silent Nights – Improves Quality of Sleep
Hormones & Digestion
(1) X39 – Stem Cell Activation
(1) X49 – Improves Cardiovascular Function and Focus
(1) Aeon – Inflammation
(1) SP6 Complete – Appetite Control & Increased Organ Function
Performance, lean muscle mass
(1) x39- stem cell activation
(1) x49-builds lean muscle mass, promotes fat loss. Faster recovery
(1) Aeon-Inflammation & pain reduction
(1) Glutathione- Master Antioxidant, gut health, longevity
---
Features
Youth renewal – Don´t just slow down aging, reverse aging with this drug-free and risk-free technology that activates your own stem cells.
Energy – Are you working out on a regular basis? Prepare yourself to fly through your workouts like never before and to feel like superman while you do it!
Sleep – Improve the quality and quantity without any drugs and without feeling sluggish the day after.
Performance – Your performance metrics gets elevated on a cellular level. You are (most likely) going to experience a mental clarity boost, that´s for sure.
Fast relief – Get almost instant relief from minor pains and aches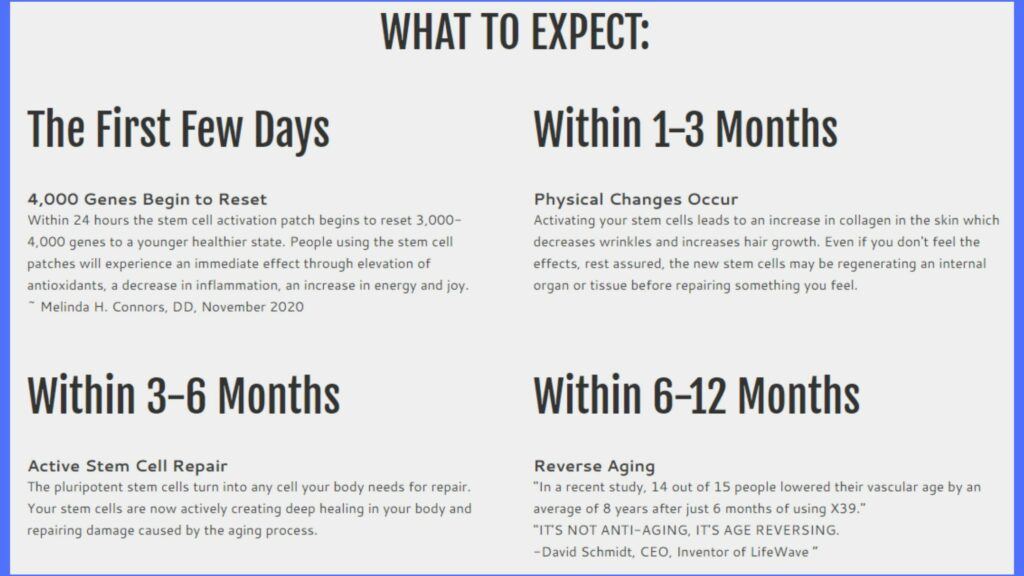 How to start & try the patches yourself? (this is how you do)
Please READ all instructions first (and/or see the video instructions), and THEN place your order with the link below.
Please note that the Starter Kit option is information only and does not come with any product.
The ordering options are to purchase retail or wholesale. I would recommend that you "join" and then you set up a wholesale account for best pricing. It will also allow you to share Lifewave with others and earn an income from doing so.
There are several wholesale kits available.
Personally I got the diamond package right away (lasts for 6 months) but my recommendation is that you get at least a SILVER kit or above – the more patches you purchase, the lower the cost per patch.
Please note, the kits are a one time purchase with no commitment. If you want only one month supply, choose a Bronze Kit. The Silver Kit will last for three months of X39 or 30 days of their most popular targeted protocols to speed up your results.
You want to at least try to keep your stem cells activating for 90 and 120 days, when deeper healing and regeneration happens. So that is why I would recommend that you get at least a silver kit, but it´s up tp you of course.
STEP 1:
Choose from one of five wholesale kit options. Please note, Silver Kit and above are free wholesale accounts and do not require the $25 sign up fee. If you choose to purchase a Bronze kit there is a one time wholesale account setup fee of $25, wholesale product pricing is the same.
Please note the starter kit is information only and contains no product.
All kits are pre-populated with X39, but you can customize your kit as shown in the demo video a bit further down (under step 5).
STEP 2:
Fill out your personal info which includes choosing your username and password, enter your credit card and scroll through the terms and agreements and submit.
Note: Brand ID refers to your customer ID, we recommend you ignore this box and use your first and last name or just make a cool name if you want for your wholesale account login.
STEP 3:
Brings you to the final page where you can review and complete your order.
STEP 4:
Now you are ready to place your order!
Click the button to order, when the page opens, choose your country and language and begin placing your order.
Step 5:
place your Order here: www.lifewave.com/nohype
---
Video instructions on how to place an order:
==> You can order here: www.lifewave.com/nohype
---
FAQ
The question you are probably asking yourself is "do these lifewave patches really work or is it just a bunch of mumbo jumbo, right? I have to say I was pretty sceptic at first, and the biggest reason I was sceptic was due to the MLM (multi level marketing) structure, aka Pyramid Scheme… I have never liked such business models and have also never been involved in one.
However, as I found the whole consept super interesting, with the uv light going out from your body being reflected back into your body, on certain key points of your body… Yeah, I just had to try it, and im glad I did!
You might not know it yet but infrared light therapy for healing is actually a thing. Did you also know that your own body is giving out infrared lights all the time? What if you find a way to reflect those infrared lights back into your own body, what would that do? Well, that is exactly what the Lifewave x39 patches and also the other patches does, it starts a process in the body that has a lot of benefits.
What is stem cells?
In short, stem cells are your body´s raw material, the building blocks I guess you can call them. All other cells with specialized functions in your body are generated from stem cells. Under the right conditions in the body (or in a lab), the stem cells divide to form more cells called daughter cells.
Source: Mayoclinic.org
Why are stem cells important?
As stem cells are the building blocks of you body and everything within it, like organs, blood, tissue, immune system, etc it´s quite easy to say they are pretty important. They can be compared with an internal repair system, that regenerates and replace lost or damaged cells within your body.
What Lifewave patches are most popular?
Short answer: The x39 patch is the most popular one.
How do I get started?
First of all, you are going to have to go to the website and JOIN, either as a CP (Prefered Customer) or as a BP (Brand Partner).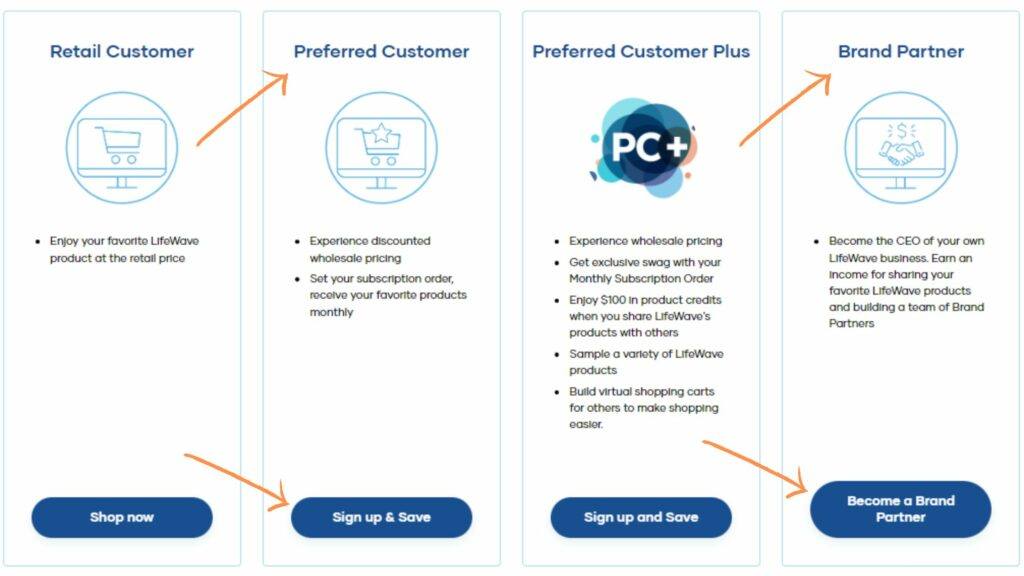 The later alternative (BP) is if you want to both buy but also share the patches with others & earn money while doing it. If that is the case you are going to get a duplicate replica site that you can share with people and anything that get´s purchased through that site you will get a commission on. If someone purchases the diamond package for example you will get a $500 commission!
I bet you are curious on the ingredients in the x39 patch, right? So was I and the coolest thing is that they contain almost nothing else than crystals, just like the other patches does:
In each patch are organic nanocrystals with new, proprietary and patented crystal formation. Each patch has different proportions of combinations of amino acids, water, stabilized oxygen, sugars and salts that each form a different crystal lattice structure because of the ratios of the substances contained therein.

The patches are activated by your own body's light frequencies such as infrared and visible light that we cannot see with our eyes. Each patch is designed to specifically elevate a normally occurring peptide that our bodies produce. Because of the different  structural formation and pattern of the different crystal lattice structures, each patch reflects a different frequency back into our body, that we are already making, thereby activating the production of specific useful and beneficial peptides that in turn activate different pathways in our bodies for long term better health and function!

The process is called photobiomodulation, light creating change in the body.

The patches are latex free, non-transdermal, completely free of any drugs, chemicals, or stimulants and do not interfere with any medications you are taking since nothing goes into your body. The patches simply reflect back inwards the wavelength of light emitted from our body.
Let´s have a look at some of the Lifewave x39 patches reviews below!
Lifewave x39 patches reviews
Dr. Tracy Hoyt – Review of X39
Lifewave stem cell patches reviews +

my personal take
There are a ton of positive reviews online about the Lifewave stem cell patches. I went through a lot of them before I went ahead and ordered the patches myself just to get a better idea of if it was even something worth to consider. What I noticed after a while was a common theme among the negative reviews, and that was that it had nothing to do with the quality of the products.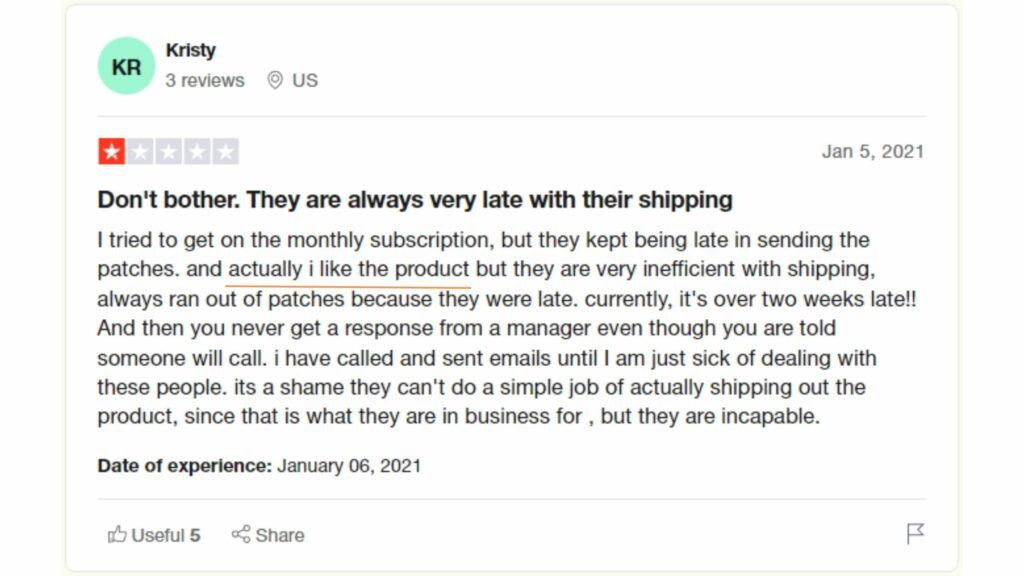 It was mostly about shipping and that the patches being expensive.
How my personal shipping experience was? Better than with anything I have ever ordered, got my patches  the day after I placed the order, pretty fast in other words…
Same old story as always I guess, some people always have to complain about something, right?
There were also some complaints about Lifewave not being approved by the FDA (Food and Drug Administration)… Well, so hasn´t weed, and weed clearly got some health benefits as well, right? The FDA also approve a lot of things that aren´t really healthy, like chemical sweeteners, candy, etc, right? Am pretty sure that "light healing" will never be approved by the Fear and Death Administration, ooh sorry I mean the Food and Drug Administration.
Anyway, enough of negative people, right? They are actually right when they say it won´t work for them because if they choose to live un-healthy and being negative all the time, then there is nothing in the world that is going to do them any good, right?
Below you got both screenshots and links to some of the positive reviews instead: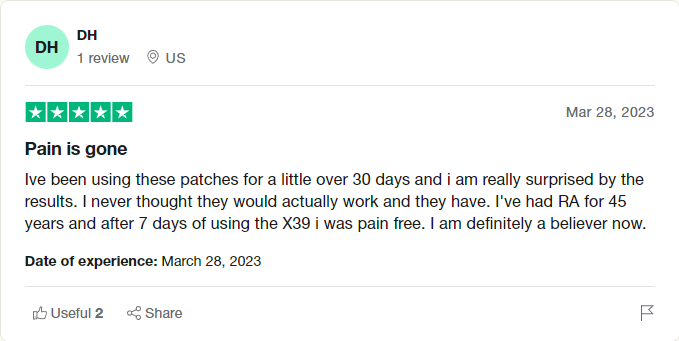 Lifewave Video review & testimonials:
Autoimmune Issues
NFL – David Hill
Symptoms of Autism
Chronic Knee Support
Heart Issues
Teens
Neurological Issues
---
Pros & Cons of Lifewave
Pros
Noticable improvements in health and well being
Improvement in strenght and endurance
No drugs going into your body
Only thing going into your body is infrared light
Huge improvement in energy
you feel and look younger
Very low cost compared to the value you get (not to mention compared to stem cell injections)
Different patches for different benefits
Even works on your pet
Very easy to use, just put it on and leave it for 12 hours
Cons
You got to wear the patches for 12 hours
If you are hairy it might hurt a bit when you take the patches off
x39 cannot be shipped to Kanada (unless you ask a friend to ship it from the US privately)
---
Alternatives?
The alternative is obviously to go and get stem cell injections, IF you got the economy for it as those injections are not really cheap… If that is something you are interested in it´s also very important that you go to the right places.
If you start to do a bit of research and ask people with experience about this you are going to notice that quality varies a lot. For example, in the US you will (most likely) not find any good stem cell clinics and you are only going to waste your money.
Seems like the best places to get stem cell injections are in Mexico, have also heard that Panama got good clinics as well. People who have tried in the US and then went to Mexico say that it´s night and day.
So, if you are looking to get injections then go to Mexico. One clinic that I have heard is great from more than just a couple of sources is Regenamex, they got their headqurarters in Puerto Vallarta and in Guadalajara.
There are no alternatives what I know of when it comes to patches and to re-generate your own stem cells.
Certain foods will have a positive effect though, for example Tumeric should have a positive inpact on your own stem cells and the health state of them.
---
Final words & verdict
Verdict: LEGIT!
Overall rating: [usr 5]
Have to say that it is a very long time ago that I was this impressed by a product, in any niche! This is without a doubt a must try for anyone, young or old, healthy or not. Am pretty sure it will improve your quality of life in more than one way. If that is not one of the best investments you can make then I don´t know, the cost is also very low especially compared to the value you get from using it.
==> Order yourself some Lifewave patches here <==
---
This is how you order in more detail:
(+ start your own side business by simply sharing Lifewave with others!)
Select country & Language
If you want wholesale pricing, you just hit "join" and select one of our popular wholesale kits ( silver or gold, etc.) Prepopulated with x39, so if you want other patches first edit this, and fill it with whatever patches you would like.
See detailed demo video below:
---
I hope you found the reviews on the Lifewave stem cell patches to be helpful and that you now have a better understanding on what it is and if it´s a scam or not. For me it´s crystal clear it´s not a scam, from my own experience. Also, think it´s pretty obvious when you are reading the reviews that even the negative ones don´t complain on that the product is not working but rather on shipping issues and that it´s expensive, etc.
If you have used any of the Lifewave patches yourself then please share your experience in the comment section below as it can help others and I would also be very interested in hearing about your results!
Also, if there is anything you want to ask then I would be more than happy to answer your questions below as well!
I wish you the best life has to offer!
John, founder of No Hype Invest