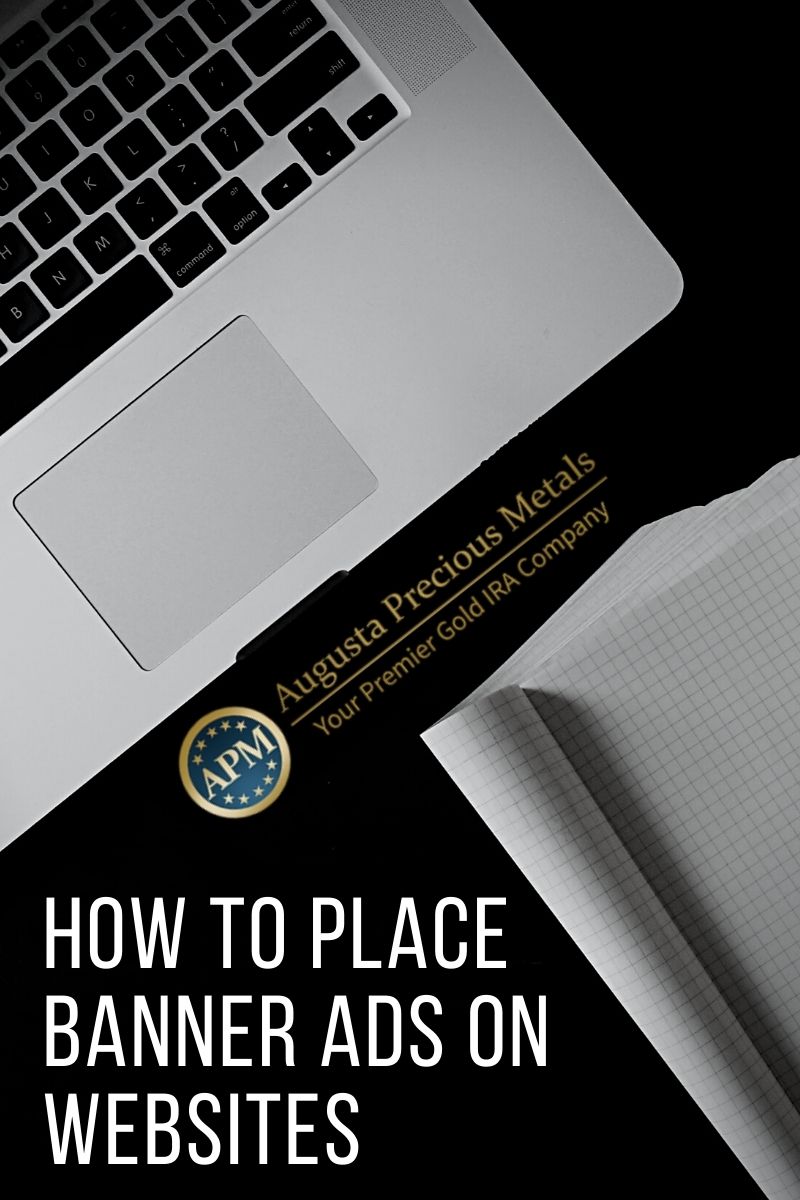 Intro
Many people have tried affiliate marketing and failed, if I would have to guess I would say that maybe 95% of those who have tried it have failed. It is probably confusing as well that there are so many different methods to do it also, and focusing on many different things at the same time… yeah, that´s never very productive.
The trick is to focus on ONE way and do only that one, at least until you get results from doing that method. Block everything else out and get into the tunnel vision mode where you do not see or think about anything else other than the method you are currently doing. Once you do get results then maybe you could try another method but not before that.
As you already might know, the method you are going to learn is a bit like fishing.
For example, if you place toys for children in front of parents who have children there is a high chance that at least some of them will buy from you, right? This method I am about to show you will work the exact same way.
So what you can expect with this whole thing (IF you do everything right) will depend on 1 thing I would say. How big your ad space budget will be. Because the more your banner will be placed in front of the right audience, the more money you will (most likely) make, this is just a natural law.
Of course, a good tactic might be to start out small, and then, as soon as you make your first sale, you re-invest your earnings (maybe not all but a big part of it) into new ad space, and so on. You should hopefully be able to build up an extra income stream this way that keeps growing bigger over time.
Here are some of my own results the latest month, (note that only a qualified lead, no matter if they move forward or not pays me $200):

---
Table of content:
Your target audience
Finding websites where you can advertise
How to find & contact different sites?
What does it cost?
Where is it worth to pay to place a banner?
How to see if the demographics of a particular website is right for you?
Choose your banner ad
The "techniqual" part (Your banner + your link)
How to get your banner (your ad)
How to get your affilate link (advertorial/landing page)

How you track you link? (sub-id)

Why you should ALWAYS put a tracking (sub-id) at the end of your link
Please do not skip to put a sub-id, it is IMPORTANT!
Now, simply give your link (and banner) to the website you have decided to do business with!
Q&A
Conclusion
---
Ok, so let´s get started with this!
How can you get started?
Well, first thing is first, and the first thing you have to do is to find a website that are willing to let you place your banner ad on their website.
There are pretty much endless of websites that are willing to let you do that.
However, you are NOT interested in just any website, it has to be a website where your target audience hangs around.
---
Your Target Audience & desired Demographics?
Your demographics are in short: ONLY people living in the USA and mostly retirement aged 50-65+ years old. They also tend to be Conservatives and Christians for the most part. Also, likely a Republican (Trum supporter) and NOT a fan of Sleepy Biden… Yeah, you know the type, right?
This alone is enough for you to know I would say, going deeper would maybe only overwhelm or complicate the process… However, if you want more exact demographics then you can see that further down in the Q&A section.
First thing is first though, and the first thing for you to do is to find a website where you can place your ad (banner).
---
1: Finding websites where you can advertise
First of all, there are almost endless of websites where you can buy ad space, the most important thing is that the demographics of the site are the ones you are targeting. You are free to search for your own ones and I encourage you to do so, as I do it myself all the time.
How to find & contact different sites?
Look at either the top menu or at the absolute bottom of their websites, many times you will see a tab named "Advertise" and that is where you find the information on how to contact the site, or the ones in charge over the advertising on that particular site.
Sometimes you won´t find and "Advertising tab" and then you can instead go to their "Contact" and ask them there by e-mailing them with a subject line of "Advertising request" and then explain in your e-mail what you suggest.
Some sites do not accept advertising, eventhough most of them does. Sky is the limit here and you could basically make it a full time job to find new sites only.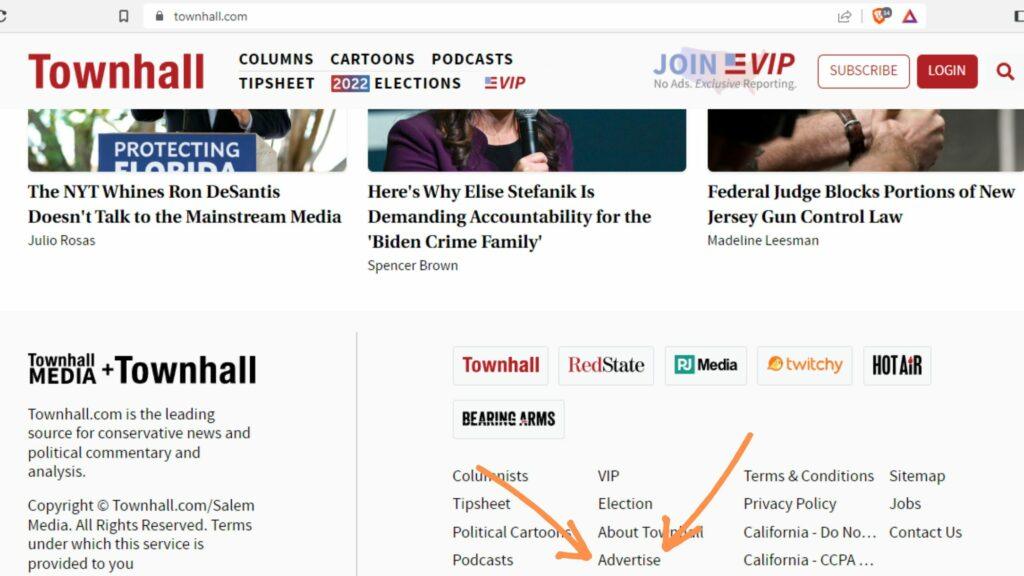 What does it cost?
This will vary a lot! Some will charge per month, while others charge per displays. Huge sites with millions of views every month tend to charge per display, for example 1,5 million displays could cost $1k (GREAT deal as long as your target audience is on that site).
here are some very good alternatives for you to look at:
censored.news (here you will find a bunch of interesting websites to choose from)
**These above are just a few of hundreds, probably even thousands of interesting sites out there.
Should you go with any of these ones above?
Absolutely, be my guest! However, I think it would be fun (and smart) to find some sites on your own as well)
P.S. You might have heard that I recommend starting out with $1k for advertising, right? That´s because I know of a site that got HUGE traffic and that I will mention in the Q&A section further down.
Where is it worth to pay to place a banner?
It depends. Keep in mind that only a qualified lead (no matter if he/she goes forward and invest will give you between $165-$200 in earnings. So if a site only want $200 for you placing a banner on their site for 1 month, it could be worth it even if the site only has a small amount of traffic, right? IF the demographics are the right ones, of course. That´s what´s most important.
How to see if the demographics of a particular website is right for you?
There is only one tool I use for this, and it is a website called simillar web. Here you can simply type in any website and you will get all the info you need about that particular website. Below is an example where I have looked up the USAwatchdog.com website from the example above: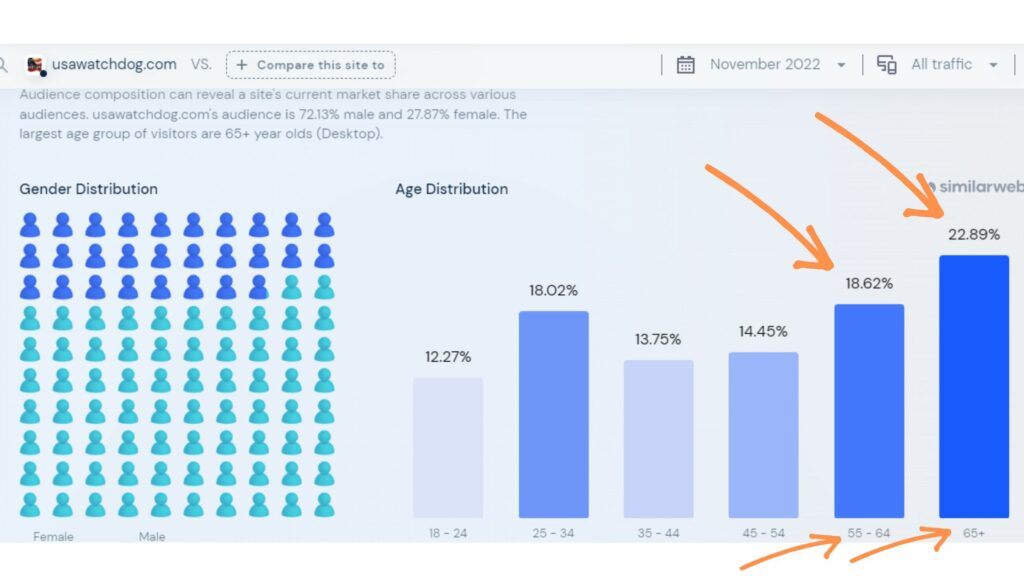 As you can see, 22.89% of that particular website users are 65+ years old, and 18.62% is 55-64 years old, so a total of over 40% of the website visitors are over 55 years in total, and that is GREAT for you! Big chance of getting leads here I would say!
As you can see from the screenshot above there is also a section where you will find some of the main interest of the audience (note that "Investing" is one) and in the middle you will also get similar websites and this can be VERY helpful to find more websites to contact as they are probably very good places as they got a similar audience, right? Do you see Zerohedge.com at the top? That would be a GREAT place to advertise Augusta, probably costly though as they got a HUGE audience.
See the full example of the info & metrics on the USAWatchdog website here
As you can see, there is a very big chance that you will find potential investors among the audience of the USAwatchdog website. They also got around 600,000 visitors per month so I would not hesitate to try placing banners on this site, and I would also be ready to pay between $500-$800 for having a banner on their site for the whole month for sure. I have no idea though, it might cost less or more.
Once you have found and picked a website to do business with, you simply provide them with your
a: banner ad
b: your affiliate link/landing page (or advertorial page)
That´s it!
---
2: Choose your banner ad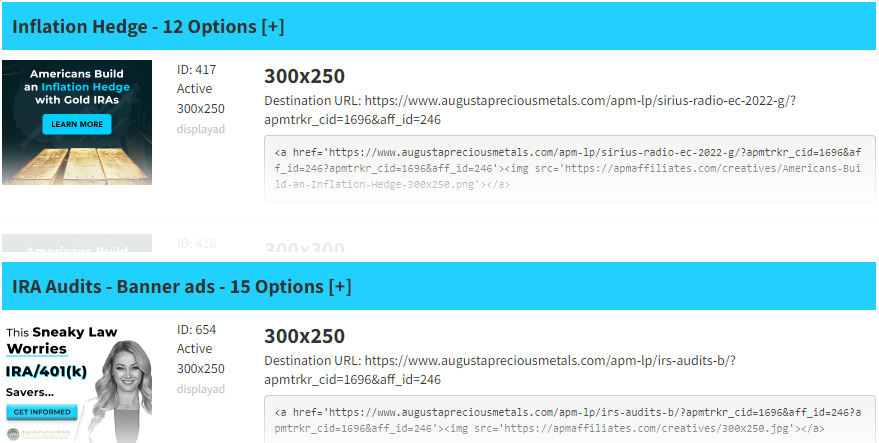 The "techniqual" part (Your banner + your link)
(Truth is that it´s super easy, even a non-techniqual 8 year old would be able to do it)
So, once you have found yourself a website that is ready to do business, and that you feel is a good match with your demographics. All you have to do is to provide them with your banner and your link.
That´s ALL you have to do!
Personally, I believe this is very simillar to fishing, you put out hooks in different waters and simply wait for the fish to take your hooks. Some waters are better than others, and you never know when the fish will bite and/or how big the fish will be! You can have a strong positive feeling about certain waters though 😉
How to get your banner (your ad)
Below is a screenshot from inside your backend where you can find ALL your pre-made banners: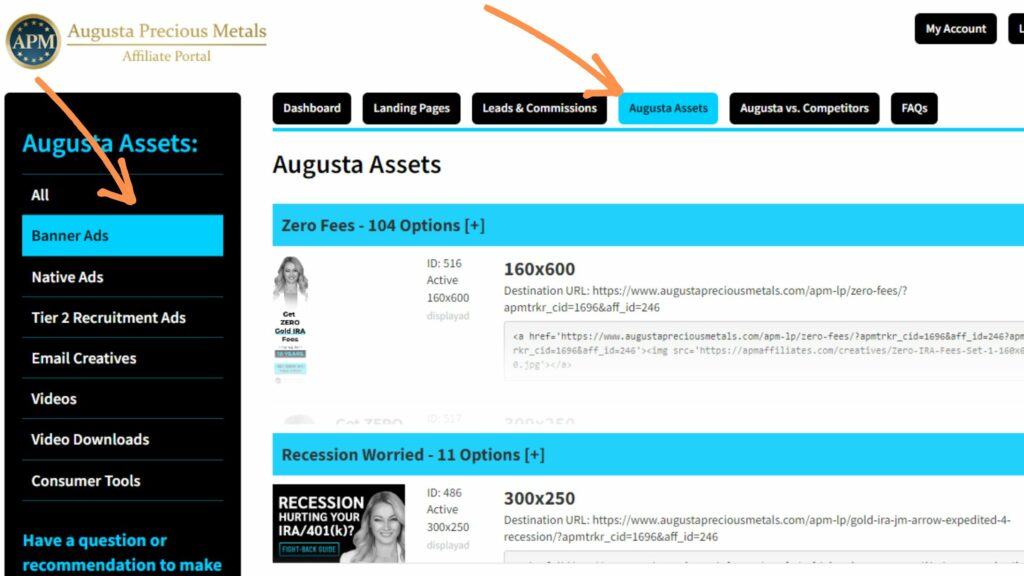 Simply scroll down and choose the banner you prefer, my advice is that you get one that you a: think will speak to your target audience (and grab their attention BUT looks professional) b: will work good together with the link (landing/advertorial page) you want to run.
For example, if you want to run the link/advertorial page that is named: "Inflation Eating"
Then you could, for example, choose the "Inflation Eating Your IRA/401(k)?" banners, as those works good (are related) together, right?
P.S. Never mind the long code, simply right click on the banner image of the right size you want and then download the image, then giuve that image to the website where you wanmt to run it. You could lokk at the destination URL to get an idea of what link/landing page to run together with the banner but you absolutely dont have to use that particular landing page, if you think another one would work with that particular banner then go with your gut feeling.
P.P.S. The size you pick on the banner is going to depend on what size you and the website you have found to do business with have agreed on. My experience so far is that most websites work with 970×250 and 300×250 but this will be different for every website you speak to, what sizes they accept.
How to get your affilate link (advertorial/landing page)
Inside your afiliate backend there are many different landing pages and/or advertorial pages to choose from. I would suggest you look at each and every one of them. So go throught them and copy and paste the whole link into a new browser window to see them.
Below is a screenshot from inside your affiliate backend where you can find ALL your different links (that leads to your different landing pages):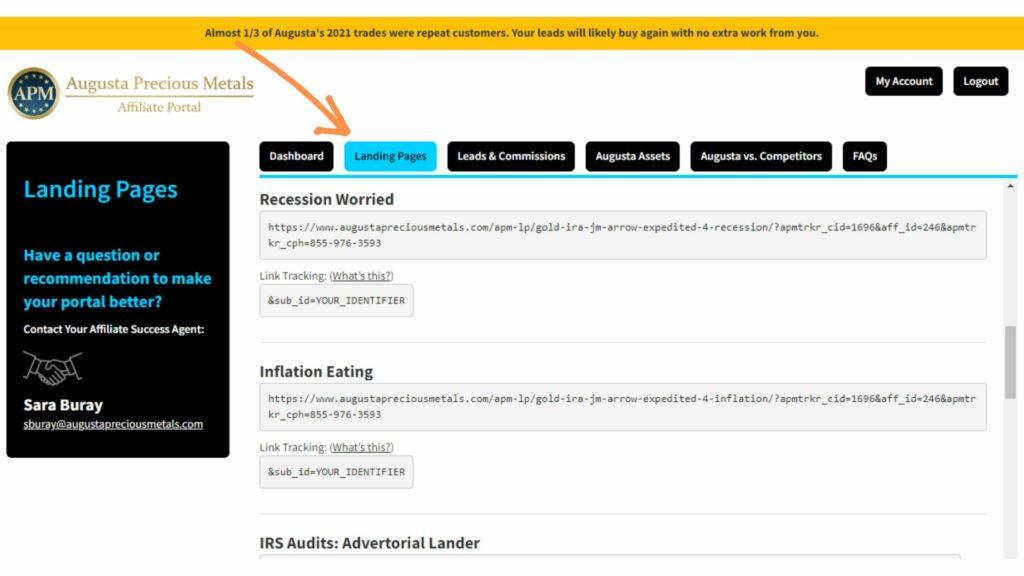 How you track you link? (sub-id)
Below is a screenshot from inside the backend where it´s explained how you track your link, I will also explain with my own words further down: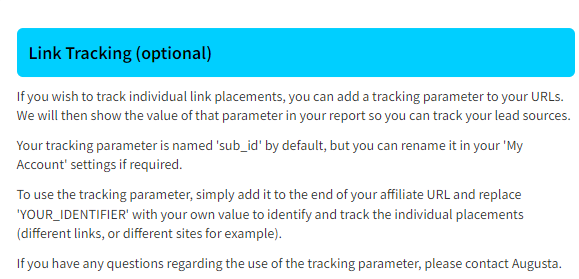 Why you should ALWAYS put a tracking (sub-id) at the end of your link?
In my opinion you should ALWAYS do this!
It is very simple to do, so why skip it, right? Especially when you gain so much of having it there.
First of all,
you always place the sub-id at the end of whatever affiliate link you choose,
your sub id link always look like this:
&sub_id=YOUR_IDENTIFIER
(You fill in whatever you want instead of "YOUR_IDENTIFIER"
For example, if I run an add on USAWatchdog I might fill in USAWatchdog instead, like this:
&sub_id=USAWatchdog
That way I will know how that ad performs.
Say that you for example want to use the "Reccession Worried" link/landing page,
that link looks like this:
https://www.augustapreciousmetals.com/apm-lp/gold-ira-jm-arrow-expedited-4-recession/?apmtrkr_cid=1696&aff_id=246&apmtrkr_cph=855-976-3593
Then to put a sub-id on that one you simply put the sub-id at the behind the last nr on that link, like this:
https://www.augustapreciousmetals.com/apm-lp/gold-ira-jm-arrow-expedited-4-recession/?apmtrkr_cid=1696&aff_id=246&apmtrkr_cph=855-976-3593&sub_id=USAWatchdog
That´s it!
¨¨If you run 2 or 3 banners on USA Watchdog site at the same time then maybe you name your 3 different subids, USAWatchhdog1 USAWatchdog2 USAWatchdog3
Your link is ready and will be trackable by you (you can see the stats inside your Augusta Affiliate backend for every sub-id link you create)
¨¨You got a tab inside your menu that is named "Sub-IDs" and that is where you will see, how many clicks your particular link have got, how many leads it have generated, how many sales, etc
Please do not skip to put a sub-id, it is IMPORTANT!
This is very important as it will show you what works. For example, say that you run a banner today, and then 2 months from now you make a commission of $25,000 but have no idea where the money came from.
If you would have "taged" your particular link with a so-called "sub-id" you would know exactly where that money came from… and that is very important info to know…
Why?
Because it means you should probably run more ads on that same place, because if you made $25k from let´s say the USAWatchdog site you might want to run ads there again, and this time you might probably want to spend 3x-5x more on ad space on that same place, right?
Why would you want to spend 3x-5x more?
Because when you find something that works you SHOULD DO MORE OF IT. ALWAYS!
My advice is that you always use sub-ids on your links as it´s always better to know how your links perform also. Sometimes you might run ads on 2, or more sites at the same time also.
I hope this is clear how to do now, you simply take the link you want, then you insert the sub-id at the end of the link (and name it anything you want)
---
Now, simply give your link, or links (and banner, or banners) to the website you have decided to do business with!
Ok, now that you know what link you want to run, and have placed a sub id on that link to be able to track it then you simply give that FULL link (with the sub-id at the end) AND your banner to the particular website you have agreed to do business with!
Send your landing page + your link to the website you have agreed to do business with!
For example, let´s say you wanted this banner below (its size 970×250) and you want to run it together with the link that leads to the inflation advertorial/landing page:

Then you simply send the website you want to do business with that link (dont forget to place your sub id at the end of it first): + The banner image above and tell them that you want to run that banner together with this link.
They will know what to do and your job is done, well you might have to pay them of course but that´s it!
Your fishing hook is thrown and will now lay in the water in front of the fish you desiree, now you just need to be patient and/or maybe throw out another hook in another kind of water and/or test a different hook in the same water as well… Try to think as the fish you desiree, what do you think they would bit on? If it make sense to you, then it will (most likely) happen as well.
Q&A
Wont´ a site be saturated if we all decide to advertise on the same site?
Well, a site with 30 million visits per month will have a very hard time getting saturated from an offer, compared to a site that gets 300,000 visits per month, or one that gets only 30,000 views. That´s why I urge you to go out and find your own "gold mine sites" as well, if you find one that allows you to run your ad per month to a small cost then that could be a great thing.
If a site has under 100,000 visits per month, is it worth advertising there?
It could absolutely be worth it IF your target audience is on that particular site, on such sites you also (most likely) wont have to pay much to have your banner, many of them can probably even give you a monthly deal of a couple of hundred bucks to let you run your banner there for a whole month. Even a site that "only" got 30,000 visits per month could actually bring you some results, IF your targeted audience is there.
How long time will it take before a lead turns into a sale?
This can take only some days, but it can also take some months, even years in some cases. However, as soon as the lead has been registred as yours, it´s yours for life and you will make money whenever that person decide to make a trade, no matter how many trades the person performs. This means that you can make money many times on that single person alone… PLUS, if that person get their spouse to invest as well, you will get money on those trades as well!
How many qualified leads will I need to make 1 sale?
This is also impossible to say but I would say that as a good rule of thumb you will make one sale for every 2 qualified leads.
The exact and in-depth CUSTOMER PROFILE & DEMOGRAPHICS?
Below is an in-depth view of the Augusta Precious Metals Customer Profile: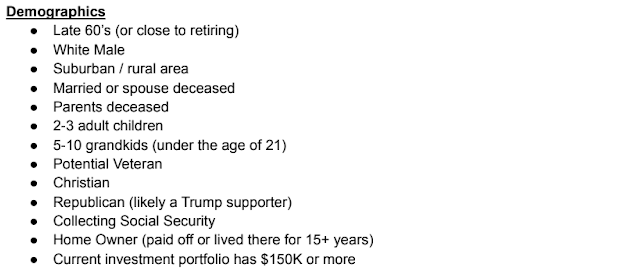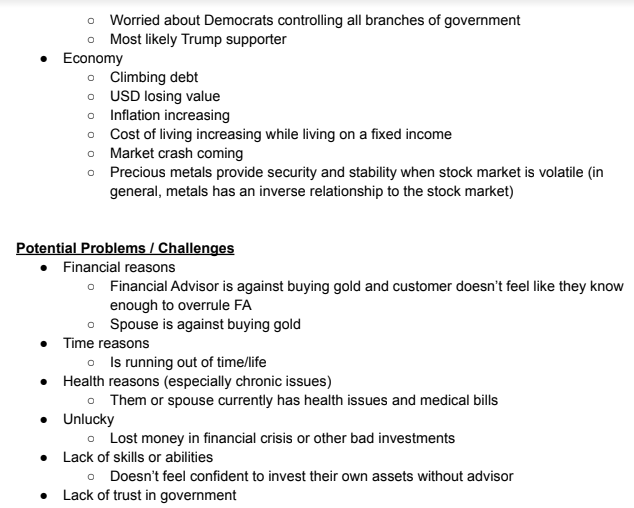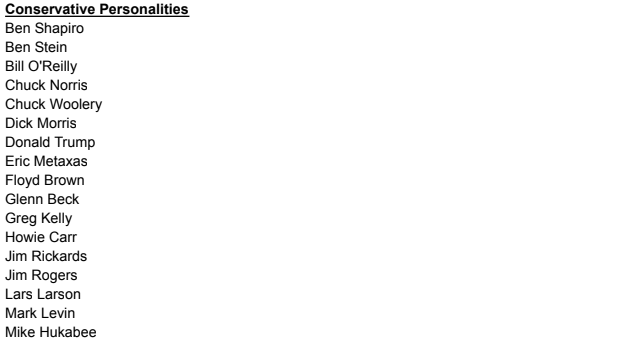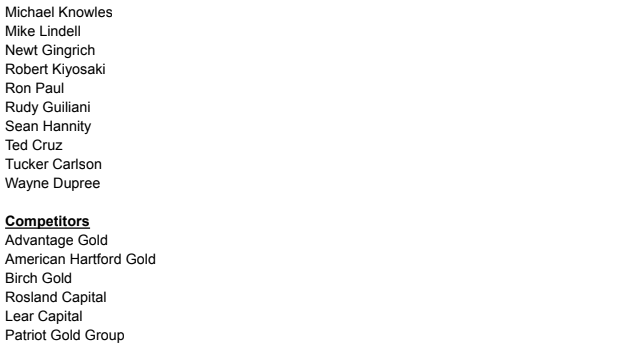 How much can you earn with this opportunity?
Truth is that there is no limit and this opportunity can make you a lot of money, maybe even more than you have ever made in your life. However, there are no guarantees, of course. You cannot simply place a banner on just any website and expect to make sales, you should have a clear view of what kind of people are on the website where you plan to run your ads, and you should have a vision of them being interested in the content of your ad. Visualisation actually works many times, so please use your mind to do this.
What website I recommend that you start with (minimum cost $1k)
The website I would recommend that you start out on is the same website where I turned $1k into $16k. By the way, I am going to buy ad spent on this exact website again, this time with 4x more ad spent though. (When something works, do more of it, right?) This website got a HUGE amount of visitors every month, I am talking about around 30 Million people per month, with over 45% being 50-65+ years old as well, AND 85% USA visitors. $1k will give you around 1.5 million displays, and that is A LOT of (targeted) people seeing your ad in front of their eyes… You will surely get some leads from that… that hopefully turns into a sale as well.
That website is: thegatewaypundit.com
So I would recommend that you start out by contacting them through their "Advertise" tab at the bottom of their site and talk to them and tell them what you would like to do. Make sure that you have a clear picture of what ad and landing page you would like to run there before you contact them as well, so you can show it to them.
BONUS

way
you can use to promote Augusta
If you look in your Affiliate backend you will see that there are pre-written e-mails there, those are proven to convert and you can do the same thing with them as you do with the banners. You simply provide a website with that e-mail and they will send it out to their audince of e-mail subscribers… This could be a very very intelligent way to advertise Augusta as well.
 Are there other ways to promote Augusta and make sales?
Yes absolutely! The one I have showed you with banner ads is just one way, a way that has worked well for me. However, the exact same websites that you contact to place banners very often have e-mail lists, and inside your Augusta Affiliate backend you will find pre-written (proven to convert) e-mails that you can give the sites as well and then they will send it out to their audience… This method can also be very very lucrative (and fast/easy to get started with), so maybe something to keep in mind as well.
Then you can also do ads in search engines such as Google, Bing, Yahoo, etc. You can also dfo ads on Youtube, Twitter, Linkedin, etc, etc
However, I would say that those are much harder than doing banner ads and/or e-mails, so I wouldnt recommend that unless you got experience and/or know someone who has and that can help you.
Are there any free ways to promote Augusta as well?
Yes absolutely, free ways just tend to take a lot more time and a lot more patience, but it is absolutely possible! I know it because I do it myself (with a website).
There are many free ways you could do it with though:
You could create a Youtube channel
FB group
Twitter account
Reedit account
Linkedin account
Different forums
etc
Grow your accounts on all the above platforms and promote to your audience there. You could engage in disscusions in different forums where your targeted audience and demographic hangs around and recommend Augusta to people there as well.
I would not recommend platforms such as Instagram, Tiktok, etc as I am pretty sure that not many retirement aged people hang around there, right? Am not sure about Pinterest but it could maybe be worth a try as well.
The most popular free way probably (one that I do myself as well) is through a niche website. That way, over time when your site ranks good in the search engines for gold investing related keywords. It requires that you have a lot of patience though and that you pump out high quality content consistently over a long period of time. If you want to see my website then here it is: goldretired.com
If you would like to learn how to create websites then I can help you with that as well, ask me and I can send you in the right direction and support you in that as well.
BONUS

How You Can Get

FREE

Traffic To Your Affiliate Links!
Probably the easiest and fastest way I know to get free traffic to your affiliate link is actually a very intelligent way of doing things as well… The only reason for you not to do this would be LAZINESS…
The method is simple, you simply download all Augustas videos from their Youtube account (Over 30 videos on different subjects that should interest your targeted audience) and then you create your own channel on a few different video platform and upload the videos there.
This way you can upload many high quality videos without having to create them yourself, or put in much time at all.
1: You create an account on these video platforms: Brighteon.com, Bitchute.com, Rumble.com and Truthsocial.com
2: You download videos from Augusta´s Youtube channel.
(here is instruction on how to download)
3: You upload the videos on your new channels.
4: Enjoy the free traffic to your links!
If you look inside your affiliate backend, and go to the "Augusta Assets Tab" You will get a menu to the left (on desktop) where you can choose between different things,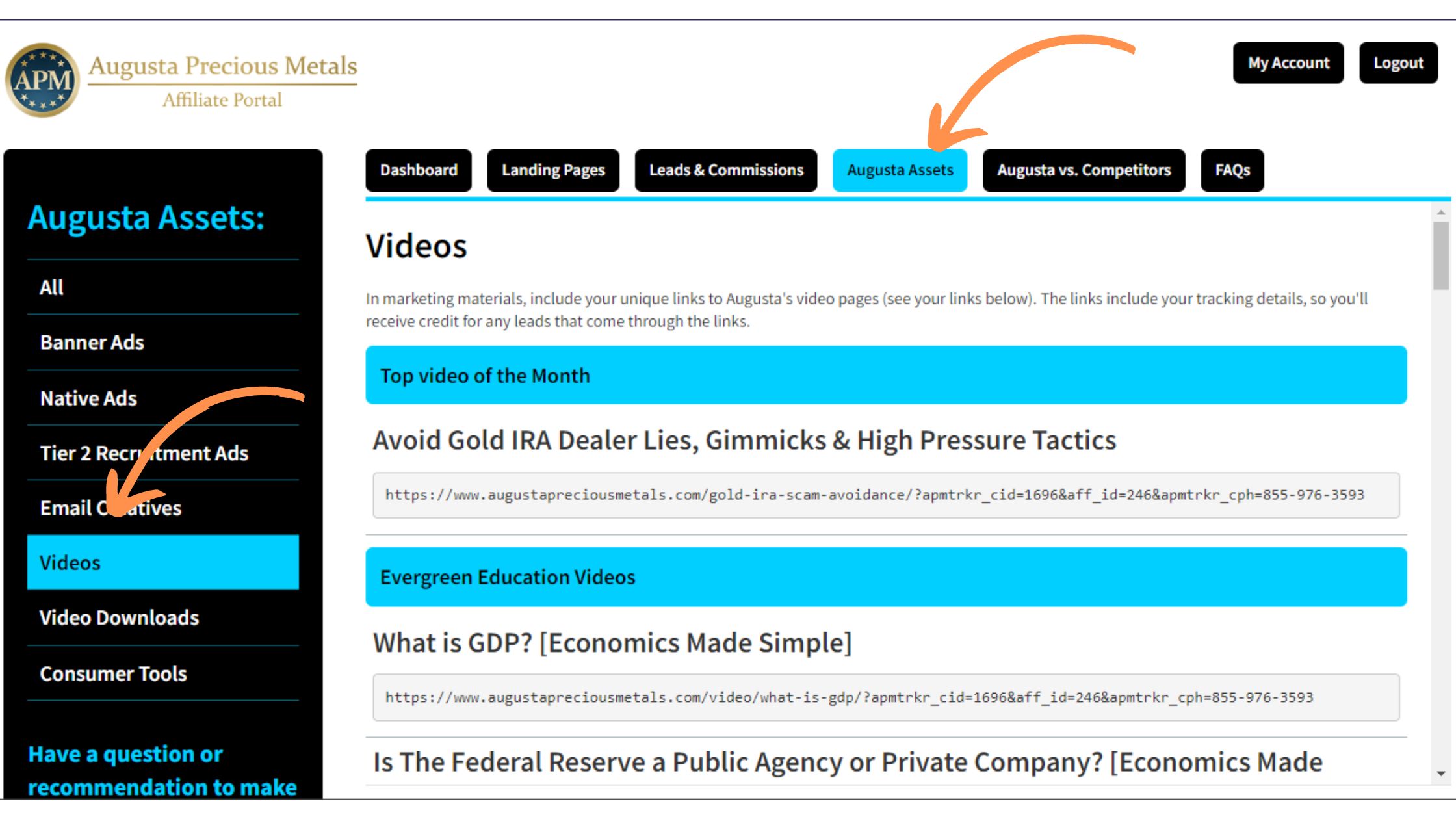 Personally, I think it is a good idea to send the viewer to the exact same pago (on Augusta´s website) where the video you uploaded are to be found, there is going to be plenty of "Call to Actions" there for the visitor to take, and if they do, they become YOUR lead forever.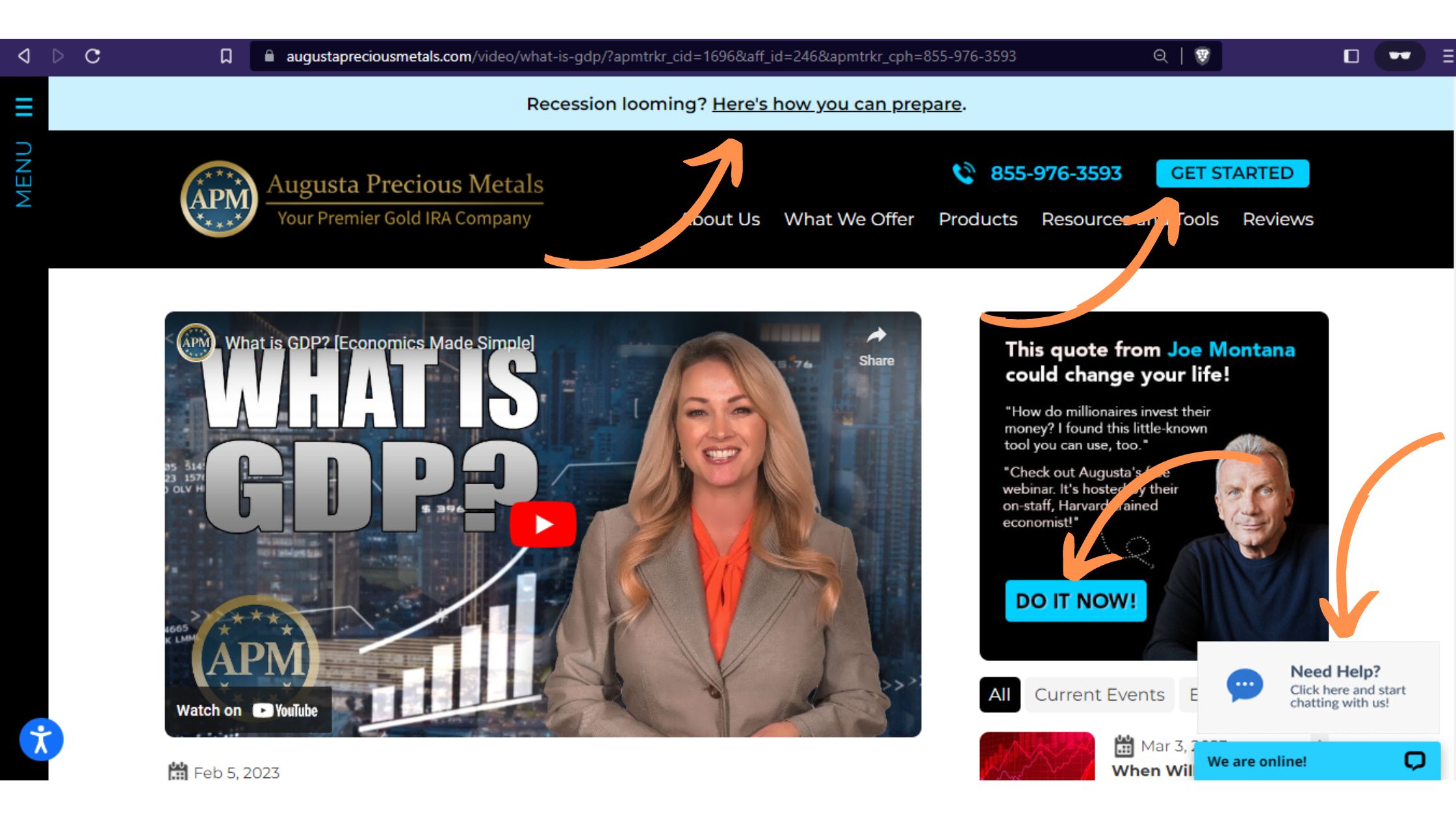 Hope the method is clear, I am going to do this myself and start a new channel on all these 4 platforms, and maybe even a few other platforms if I think the demographic of those make sense.
Please, if there is something you didn´t understand here then simply ask in the comment section below!
---
I have a question that is not covered here, where do I ask?
The absolute best place to ask is in the Telegram group. There you will not only get a faster answer but your question will also (most likely) help someone else in the group. That way we will all become better at doing this and that will only benefit us all. You can join the Telegram group here.
P.S. You should also be able to ask questions in the comment section at the bottom of this page as well!
Conclusion
Ok, I hope this instruction manual on how to make sales for  Augusta using only banner ads on different websites was helpful and that you now know exactly how to get started. I also hope that you are exited about this and realize exactly what kind of opportunity this could be for you. So I really hope that you won´t sleep on this but instead go for it and take immediate action! Don´t loose the momentum, there is a big chance you will thank yourself for not doing that a month or a couple of months from now, or maybe even in just a few weeks. Go for it!
/Yours